Accused arrested who sold plot by making fake Power of Attorney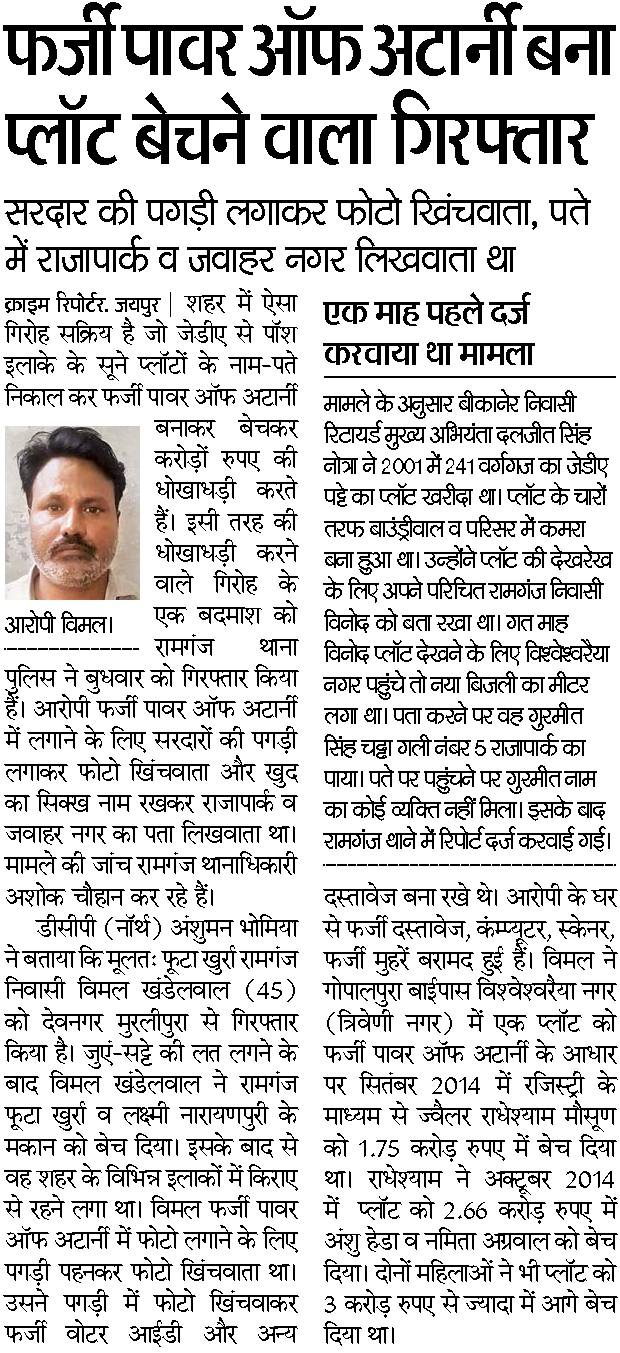 There is a gang is active in the city's upmarket heard from JDA (https://www.jaipurjda.org/)plots out the name, address fraud worth millions by selling the fake power of attorney is to be. A similar fraudulent gang was arrested in Ramganj police station, on Wednesday.
Accused was clicked photograph for a fake power of attorney by wearing the turban of Sikh and give the address of Rajapark and Jawahar Nagar.
DCP Anshuman Bhomia said that Ramganj resident Vimal Khandelwal was arrested from Devnagar Murlipura.
After speculative gambling addiction, Vimal Khandelwal sold the house of Ramganj Foota Khurra and Laxmi Narayanpuri. Since then he had lived in various parts of the city. He kept fake voter id and other documents photographed in the turban.
Fake documents recovered from the accused home i.e.  Computer, scanner, and fake stamps. Also, he sold one plot at Gopalpura Bypass Visveshyanagar (Triveni Nagar) by making a fake power of attorney to jeweler Radhey Shyam Masun in Rs 1.75 crore in September 2014. The same plot was sold by Radhey Shyam in oct 2014 to Anshu Heda and Namita Agarwal. Then both ladies also sold that plot in more than Rs 3cr.
This news is published in "Dainik Bhaskar on Dated 21st July 2016"
PROPERTY GUARDIAN:
We provide our services to avoid these type of illegal issues. We provide you to stay away from these type of people. We have an employee working with us to whom you can fully trust.